After church, last Sunday, we went out for lunch to the new downtown Qdoba. It was great food as usual and being summer with all the college kids away from the area, it's considerably less busy than the other ones in town.
They had ESPN going on a couple televisions and I spotted what appeared to be the opening of a World Cup soccer game between Italy and Mexico. But, the World Cup isn't for another year. I should know. I've been looking forward to it since the last one ended in 2010. So, what was this?!
It turns out that it's the FIFA Confederations Cup 2013. What is that?! How is it that I've never heard of this before? Granted, I don't have cable, the only television I watch is Netflix, and the only radio I listen to is Christian radio. But, surely someone would have told me about this, right?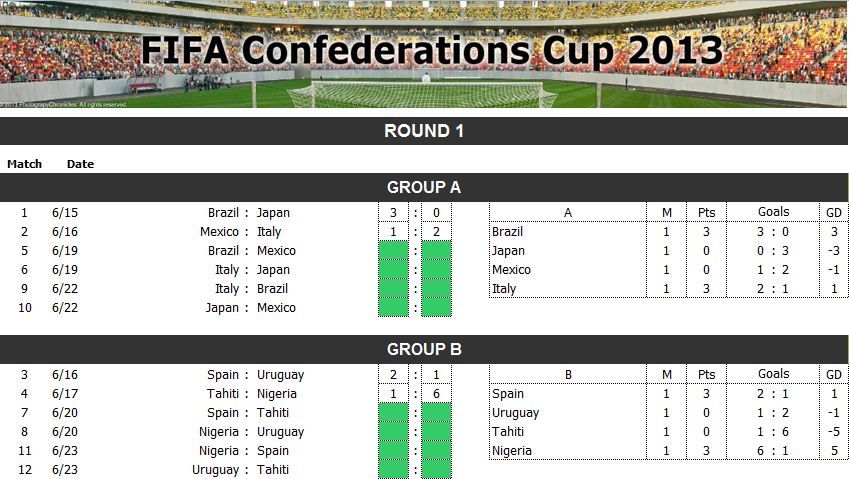 Well, no one did. Evidently, it's sort of used as a rehearsal for the host nation of the upcoming World Cup to take place the following year. Thus, this year it is in Brazil preceding FIFA World Cup 2014 Brazil.
Those of you who know me well know that, of course, I will be following along. And, yes, I'll be following along with my Microsoft Excel Spreadsheet that I customized just for this newly discovered tournament. If you would like to follow along with the spreadsheet, as well, I have conveniently included it in the Downloads section of the drop-down list found at the top of this blog. Or, since you're here anyway, feel free to just click
this link
.