The first week of my 12-week weight loss challenge came and went. And, I think that it went really well. I'm using
MyFitnessPal.com
to track my foods, caloric intake, fat intake, etc. It's pretty helpful. I especially like that it has a handy app for your smart phone so that you can add to your log on the go.
As you can see from the top chart, I didn't completely stay under my allowed calories for the week, but I did hover around my goal which is good. My daily calorie goal is set to create a running deficit, so that my body is forced to burn a little of its stored up fat to make up the difference.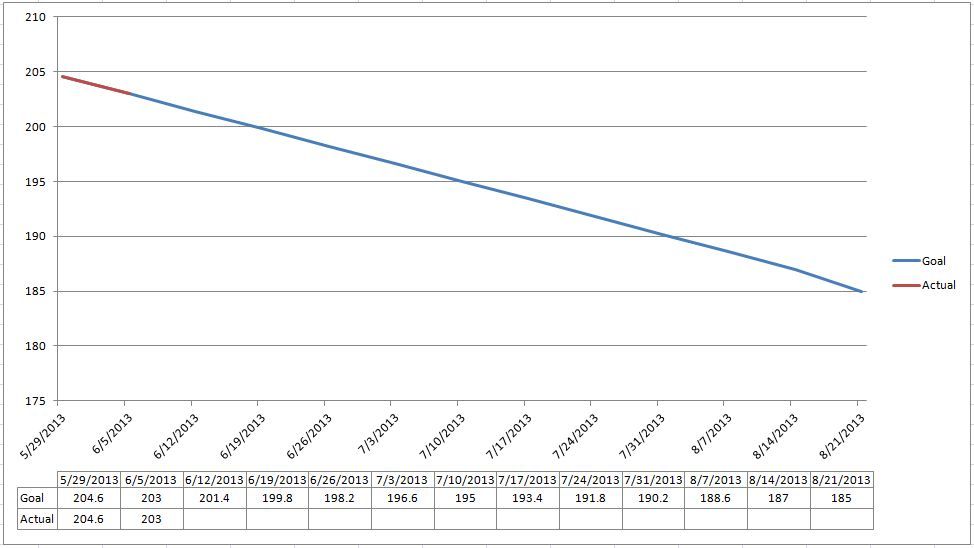 This second graph is charting my weight over the course of the next 12 weeks. It may be hard to see without clicking on it, but I hit my goal exactly to a tenth of a pound for the week. The blue is the goal trend line and the red is my actual weight. Now losing 1.6 pounds over the course of a week may not seem like much, but bear in mind that it's from doing virtually nothing different than before. I'm just recording what I eat and making better decisions because I'm questioning myself on whether something is actually worth eating if I'm going to have to record it and see my goals missed because of it. This is the competition with myself.
So, I'm right on track to hit my end goal. Kudos to me! (not the candy bar, though)