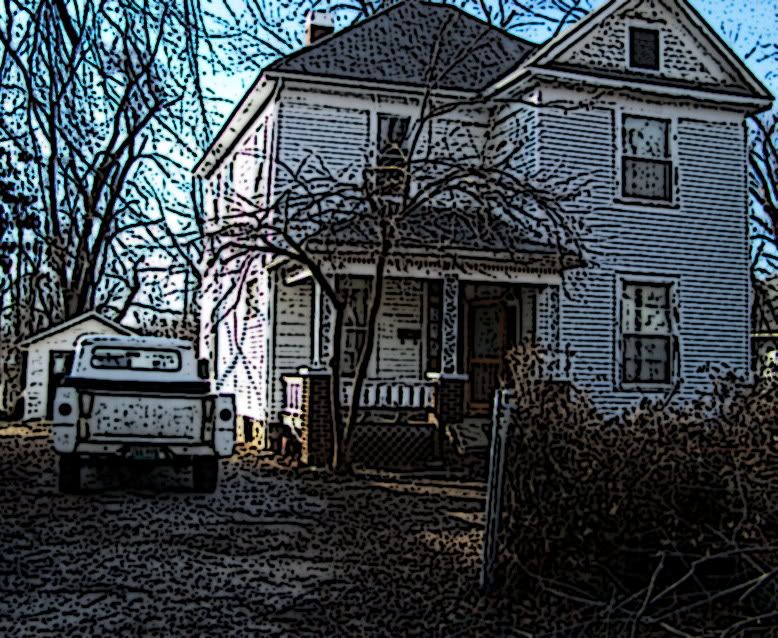 Shortly after we bought our house in February 2007, we decided to throw a big party for it in 2009. It's a Centennial party, celebrating the house's 100th birthday. This planned soiree has been on our minds lately as we have set a new goal for ourselves. The goal: to be done with all of our home improvement projects before the party. We've had a few get-togethers in our house so far and while I think they went well, a lot of work went into getting the house looking acceptable. This meant moving building material out of sight that was just going to have to be moved right back afterwards. We want this Centennial Party to be one where we can relax and enjoy our home rather than fret about concealing the construction. Also, I find that it would be an appropriate birthday gift to the house.

I was inspired by a fellow local blogger this week to do some graphic designing, but I didn't really have anything that needed graphic design work. That's when it occurred to me that I could start making a flier for the party. It's extremely premature of me to start on this, but I have fun doing little creative projects like this. I did a Google search to see what other people are doing for their Centennial events and the first result listed was Ford. They're celebrating their Centennial this year since they began production of the Model T in 1908. This got me thinking. Was the material for our house brought in by horse-drawn trailer? How cool is that? But, I needed to do some more research to find out for sure. Unfortunately, I've come to the conclusion after some searches that there is no way to find out.

What I did find out was that the first privately owned automobile in Springfield was purchased and brought here in 1905. So, one could stand to say that by 1909, the automobile was being used for all types of work where horses were used previously. On the other hand, Oldsmobile had been building automobiles since 1897 and it took 8 years before one of them showed up in the hands of an individual here in Springfield. This might reveal that the population and use of automobiles did not grow at an alarming rate, thus re-establishing the theory that our house's material was brought in by horses. On the flip side of that coin, many websites explained that Springfield's steady growth was attributed to it's placement in the US. It had become a transportation hub that saw multitudes of travelers as well as the distribution of goods. That being said, one could argue that the population of automobiles in Springfield grew at a rate faster than even larger metropolitan areas due to its incremental part in the growth of the western states.

So you can see the clear debate. The fact of the matter is that the automobile had been around for 12 years in the US.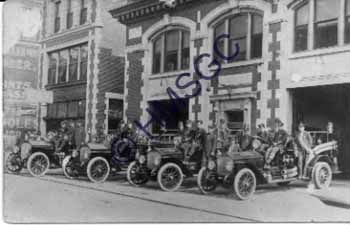 Just because the first privately owned automobile in Springfield didn't happen until 1905 doesn't mean that businesses didn't already have automobiles to provide better services. Here is a picture of one of Springfield's Fire Stations in 1913. You can see that they were very proud of their trucks. So, regardless of whether the material was brought in by horse or by truck, you know that it was pretty cool either way. I mean, look at those fire engines. If it was a truck like that that brought the material, I'm still amazed to think that we are now part of that history.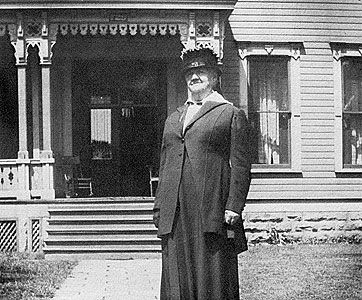 One quick interesting thing I found while searching was this photo. The caption read "Mrs. H. Frank Fellows at her home on North Main St. about 1910. This was the first house in the city with electric lights." Now, I have no reason to believe that our house was built without electric light installed. All evidence that I have seen points to the fact that the electric service was installed at the time of construction. Our house is two story, and this wiring runs between floors. This had to have been installed before laying the hardwood flooring upstairs. This suggests that our house was one of the first houses in Springfield with electricity.