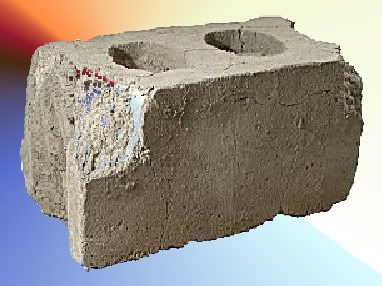 At my work we recently took out another wall that was keeping us from hitting our goals. This wall was both figurative and quite literal. We're going to a single production line in time. Right now we have several production lines for our many different products. Similar products for the same family of engines of course are together on a line, but that is where it ends. Soon we will have a single line where all the parts are available to build any one of the many different engines we have. While setting this up will be difficult, the end product will be a much more efficient shop floor and a better flow for material in and out.

Anyway, the point I am making has nothing really to do with my work. I simply got off on a tangent there. The cinder block wall that was taken out was going to be disposed of. I saw this material and asked around until I found this out. I asked for and received permission to take it home. It saves SRC from having to pay to have someone haul it off and it saves me from having to buy them. I got 61 total usable cinder blocks out of the deal. At a $1.18 each at Lowe's, that calculates to $71.98 worth of free cinder blocks. Of course I have to break off all the mortar since they are used, but it is a lot easier than it sounds to do it.


The project that I am wanting to start this weekend is building the wall between the house and the garage. I'll use cinder block to build it and then completely cover it with a thinset mortar to hide the fact that it's cinder block and to give it some really cool texture so that once it's painted and stained it will have a really cool old world look to it. I'm going for the look of the wall pictured here. I'll leave a 32 inch wide, 7 foot tall doorway in which I will put in our custom made old world style door. I'll be making the door, too, but I don't have the material for it yet. I haven't decided if I'll use aged barn wood or new pressure treated wood. If I use new, then I'll be beating it to death with chains to give it a certain used look.

Also, the rebar that I'll need to go under the top of the open door frame I have from when I bought my van. The guy had several pieces of rebar in it when I bought it and he didn't want to mess with getting it out. So, more free material! And, the solid flat blocks needed to make the foundation for the wall were all along our back fence row. The previous owners used them to keep a dog in where it dug a way under the fence. More free material! To finish the wall, I'll need to pick up a couple bags of mortar and roughly 25 more cinder blocks (only 17 if I put in a cool old world style window, too).

I really need to post some "before and after" pics on here. We've done too much to only type about it. Maybe, that'll be my next blog. So, stay tuned.