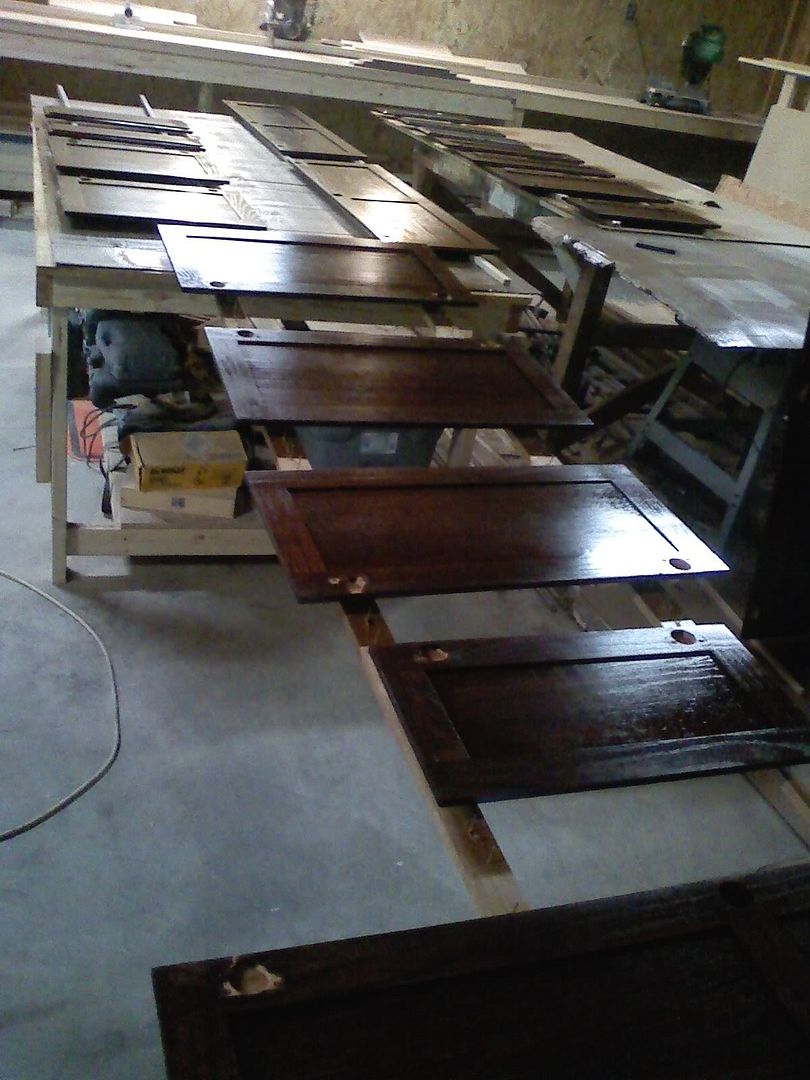 We left off last time with the highly anticipated arrival of the cabinets that we had custom built. Due to the sheer number of cabinets, the fact that we ordered them all with raised panel doors, and the strange somewhat large custom sizes we had ordered there was a significant delay getting them built. However, once they were finished, the sales guy that we had bought them through was gracious enough to trailer them over to our house in his personal truck. That was a nice touch and very helpful since I was going to have to use the van and it would've probably taken me at least four trips back and forth to get them all.
A couple pieces weren't right so he took them back with him to get reworked. We were still going to be waiting on the cabinet that we ordered later for the corner for our coffee station opposite the rest of the cabinets. But, we were very satisfied with their quality and appearance.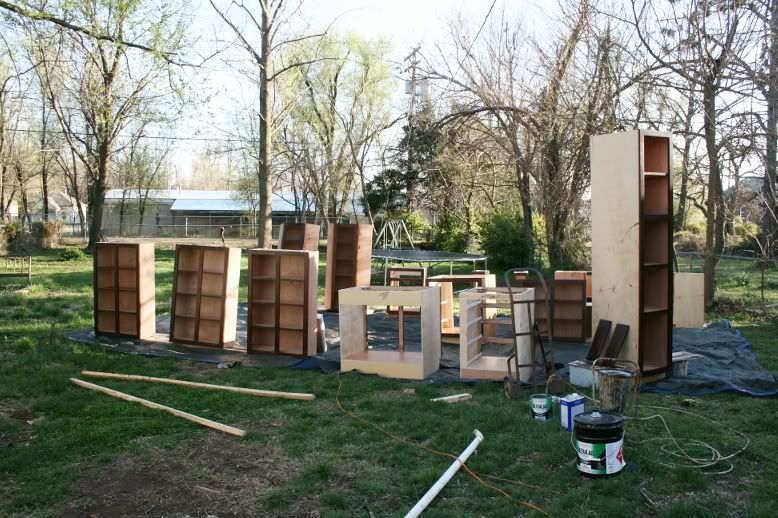 We didn't want to stain or finish the cabinets inside due to the amount of fumes and overspray that would result. So, we bought some plastic sheeting and prepared both the driveway and the garage. I had to pull my '59 Ford out of the garage to allow for inside storage of the cabinets while they dried and for between steps. Jodi did pretty much all the staining work while I did all the finishing. We took all the doors off and bussed them over to Scot's shop to finish them. Scot showed me how it's done and I took off with them. It's a good thing he has a big shop because we were seriously running out of room as we were laying them all out to be sprayed. You can see from the first two photos how many there were.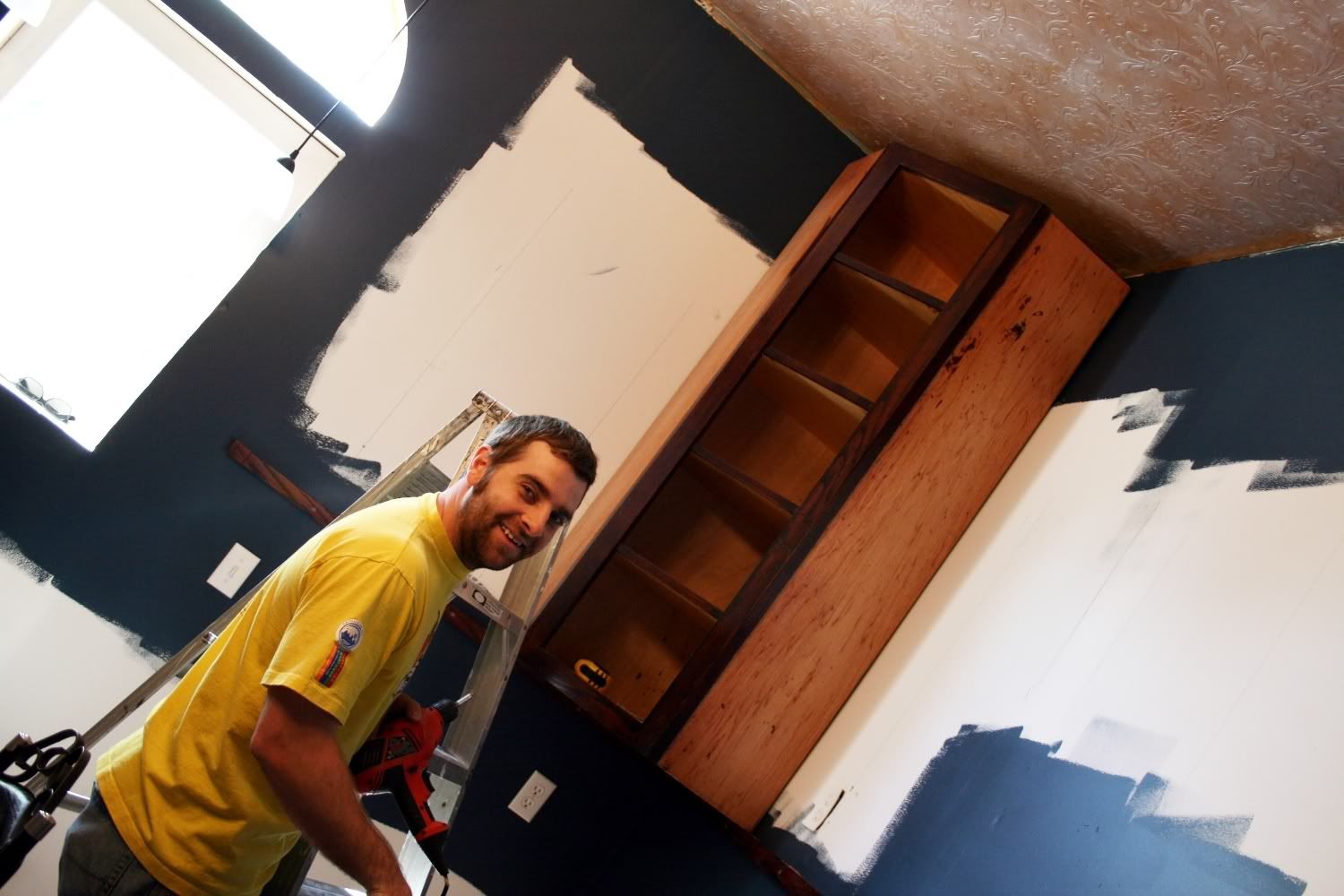 Once everything was stained and the doors were ready to go, we finished all the cabinets without their doors on a tarp out back. Next, came the fun job of hanging them. This photo shows the very first one up. We were like little kids. The next few photos just show it coming together as they were going up. They were definitely turning out as we had hoped. Lyric even stepped up to help as you can see. It was a bit surreal to us, though. After having decided what we wanted, I had drawn out the plans for the kitchen on a 3D program called Google SketchUp. We had become so used to the 3D version of the kitchen that actually seeing it come together made us feel not that we were building a real kitchen but that we were somehow placing ourselves into the 3D model.

Larry helped me get the hood vent up and installed. There was no way that that was going to happen by myself. The two of us also set up a two-man assembly line getting the hinges put back on the doors and the doors put back on the cabinets.

Again, stay tuned for the rest.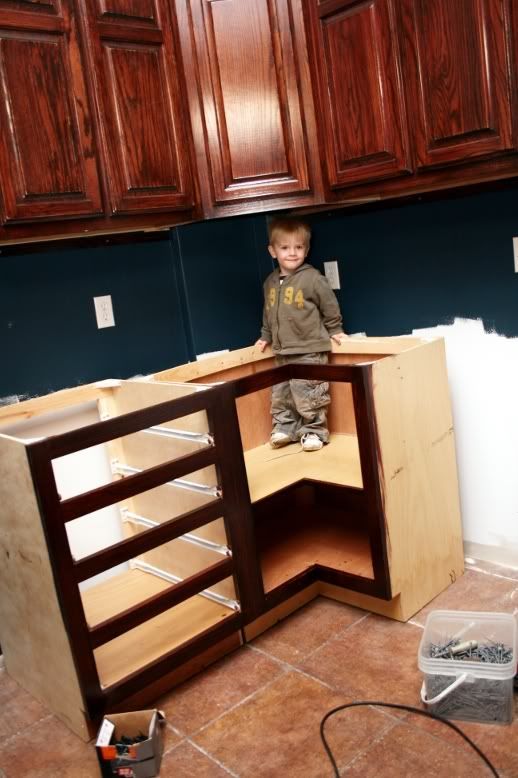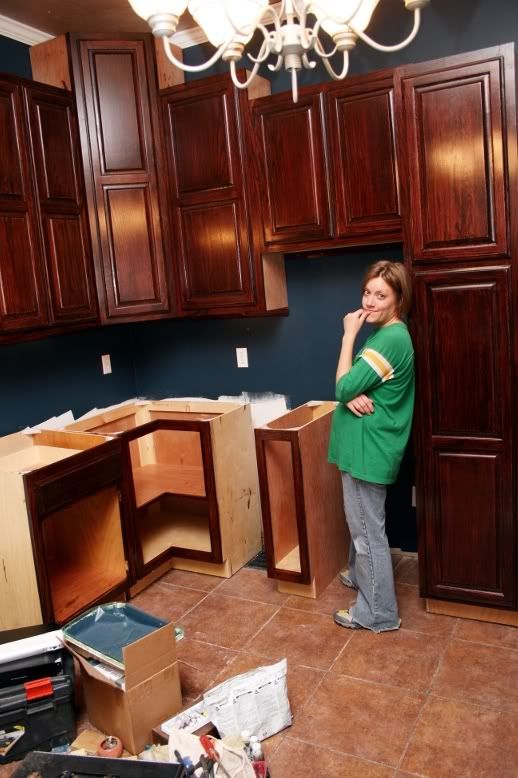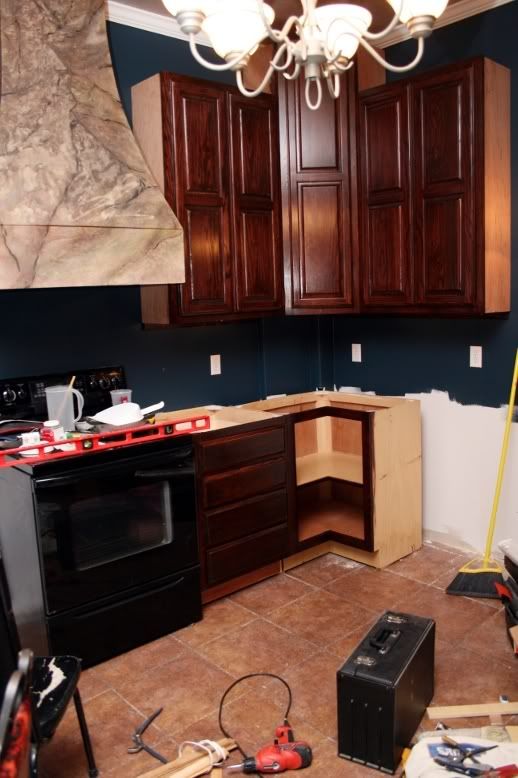 Continued on Part Eight.