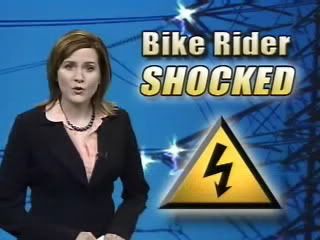 A friend of mine made the news yesterday. Unfortunately, it was because he was injured while riding his bicycle. But, he wasn't injured in any way that one might easily suspect. Rather, he was hit in the head by a power line that broke away from the pole overhead. The injury from the blow to the head alone would've probably been enough to land him in the hospital, however his troubles were not nearly over. Immediately after the shock of being hit, he was hit with a shock. He managed to crawl away from the mud puddle in which he landed, but the entire incident remains somewhat of a blur for him.


The video of KY3's coverage of the accident can be seen by clicking here. I just received the email from a friend about it and that was the first I heard of it. I'll go see him later, but say a prayer for him that there's no permanent damage.

The News-Leader also ran a short story covering it, as well, on their online publication. In unrelated news, I also am somewhat featured in the News-Leader. I uploaded three photos from our Independence Day weekend and the editors have posted them in the public gallery and requested by email that they have permission to use them in an upcoming piece. I agreed, so we'll see how that turns out. Those photos can be seen here, here, and here. However, they're three of the four photos seen below in yesterday's blog post, so you can see them there a little easier.