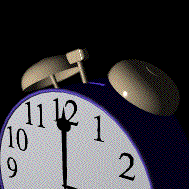 I have a story from a long time ago that I thought I'd share with you. It all started with the transition from morning person to night owl. As a child I was always a morning person. I awoke before my whole family. I remember the mornings watching paid programming while I waited for the cartoons to start at 6:00 a.m.
As a seventeen-year-old who had liberated himself from the restrictions of a parental monarchy (in other words: I moved out), I would stay up until I just couldn't stay up any longer. My friends were the same way. We would scoff at those who went to sleep as if sleeping were some obvious sign of weakness. Sleepers were a new lame sub-species of humans in our eyes. Unfortunately for some of my friends, the lowered I.Q. resulting from the sleep depravity caused them to seek alertness through illegal means. However, that was some time ago and they're all better now.
So, from this transformation spawned a new lifestyle. Once finally succumbing to the sleepiness, I would fall into a deep sleep hovering somewhere between coma and corpse. The new problem was that I could no longer awake from the sounds emanating from my old alarm clock. So a new alarm clock would need to be purchased. This finally brings me up to my story. I have a tendency to draw out stories if you haven't noticed already. I suppose it didn't need so much history, but I like history, so there!
I go to Wal-Mart with a friend of mine and start alarm clock shopping. If you've never gone alarm clock shopping, you should. It's interesting to say the least. There were probably twenty to choose from which is pretty good for Wal-Mart, I must say. Some of these clocks were nothing short of hilarious. For example, one was shaped like a teardrop from the side view. It had a low center of gravity and would rock back and forth much like the inflatable clowns that kids beat up just to have the clown pop back up for more. The purpose of this feature was that all you had to do in the morning to activate the snooze was to get it rocking. It eliminated the frantic button locating frenzy. But, isn't that what wakes you up? Another clock came equipped with a ten-foot wired remote. The remote consisted of one big snooze button with a double sided sticky square so that you could stick it anywhere. Seriously, people, how lazy can you be? There were a couple more that have escaped me, but between lazy snooze button remotes and self-setting atomic clocks, I got to wondering who comes up with junk like this. That's when it all made sense. Made in Japan. They think we're so lazy and stupid. And obviously, we are because I'm the only person taking offense to these apparent slaps in the face. Oh well.
So, in conclusion, if you ever see one of these contraptions in someone's house, you can giggle to yourself that they are being laughed at by the entire nation of Japan and they don't even know it.