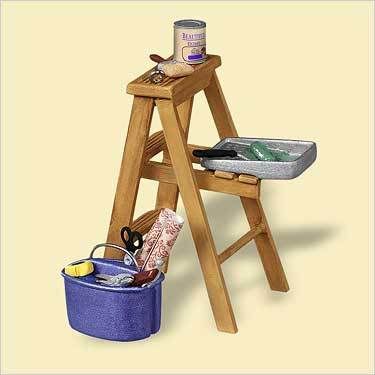 I'm afraid that it happened. I was walking through the Battlefield Mall today carrying a shopping bag. It was a very small shopping bag, but a shopping bag nonetheless. Jodi and I went there today to get a couple things. One of the things to obtain was this year's Christmas ornament. Jodi decided to start this tradition three years ago and purchase a neat new Christmas ornament every year. We would make this purchase together and we'd mark it someway with the year in which we got it. This year we got a very appropriately themed ornament. Pictured above, you'll see that this year's theme is home improvement. We just put in our first ever offer on a house. We should find out by Tuesday night if they've accepted, declined, or counter-offered our offer. Hopefully it will be the first one, but we'll see.
While at the mall, Jodi and I made some funny observations. We've decided that receiving a present from the mall should mean more to people. If the gift-giver had to fight for a parking place, walk a mile of ice-laden asphalt, walk the halls of a shopping mall completely surrounded by thousands of individuals carrying more kinds of flu viruses than kinds of shopping bags, stand in restless lines similar to the ones in preschool, pay an exorbitant amount of money for a brand name, and finally fight through traffic to get away then that really says a lot about the gift. What, then, I wonder, does it say about the home-made gifts that we're giving a lot of people? Home-made doesn't sound quite so glamorous anymore, does it?
Anyway, as we pointed out to each other, we weren't there buying for anyone but ourselves. So, what does that say about us? I never knew that we were that selfish.