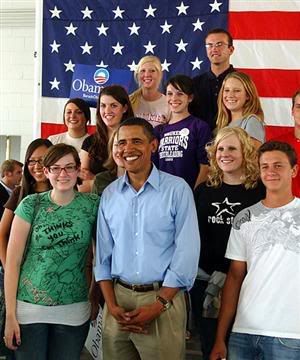 Usually when the President of the United States makes a statement on live television, a vast majority of Americans want to stop what they are doing and listen. The sit down speeches usually come during prime-time and wind up popping up on virtually every local broadcast channel. People like me, who rarely watch broadcast television, have little trouble avoiding the monologues from the faces of those whom my grandchildren might spot on some new denomination of dollar if we haven't gone to a one-world currency by then. Albeit a rare occasion, I do sometimes catch the highlights on the evening news or an online news report. I like to keep up on what is going on in the political arena. However, I also attempt to avoid the massive amount of jargon that accompanies the few informational bits that I would like to hear. So, there is a balancing act going on with my attention span during such addresses to the nation.

I just got notice earlier today of a planned Presidential Address for next Tuesday. It will take place at noon, Eastern Standard Time, instead of during the evening when the majority of Americans will be watching. The reason for this is that he isn't addressing the majority of Americans. He's addressing students. Specifically, kindergarten students through twelfth grade. To my knowledge, and my quick search of the Internet, I don't think that a President has ever done such a thing. The Department of Education has urged schools across the nation to allow all students to watch the planned address. In addition to being urged to allow students to watch the 20 to 30-minute live video of Obama's speech, faculties are also being given lesson plans to accompany the video, lesson plans that were drawn up by the Obama administration.

Upon finding out that Jacob's school intends to show the video, Jodi and I decided to opt Jacob out. He will instead be elsewhere with all the other concerned parents' children doing a different prepared civics lesson.

All of this happened this afternoon and I was surprised that I hadn't heard anything about it. However, the news reports are coming out now. People all over are taking issue with the proposed address. The White House ensures everyone that the Obama's speech is simply to encourage students to stay in school and to set goals and so forth, but Conservatives nationwide are calling it what it really is: a usurping of power by the Executive Branch of our Federal Government. They are intentionally showing this speech during school hours to side-step parents' involvement and influence, bypassing parents' right and power to educate our own children on matters of politics, morality, and ethics. By creating lesson plans, they are undermining our state's power and authority to comprise their own educational systems. Oklahoma State Senator Steve Russel said, "As far as I am concerned, this is not civics education. It gives the appearance of creating a cult of personality. This is something you'd expect to see in North Korea or in Saddam Hussein's Iraq." And I happen to agree with him.

In the last nine months, we've seen the federal government seize control over our banking system and the automotive industry while attempting to gain regulatory control over our nation's health care. We've seen the largest debt accumulated in a single Presidential administration. And now, President Obama thinks that he can just bypass me and get to my kids' minds? He thinks that he can go live when I'm elsewhere and spill his eloquent tongue all over the place to create a positive image of himself to all the children in America? I don't think so.