Well, the time has come. The kitchen is complete! It's actually been complete for some time, but with it in full operational use I always forget to take photos of it after we clean it. And with kids that window of opportunity never lasts too awful long. So, I apologize for the lengthy wait.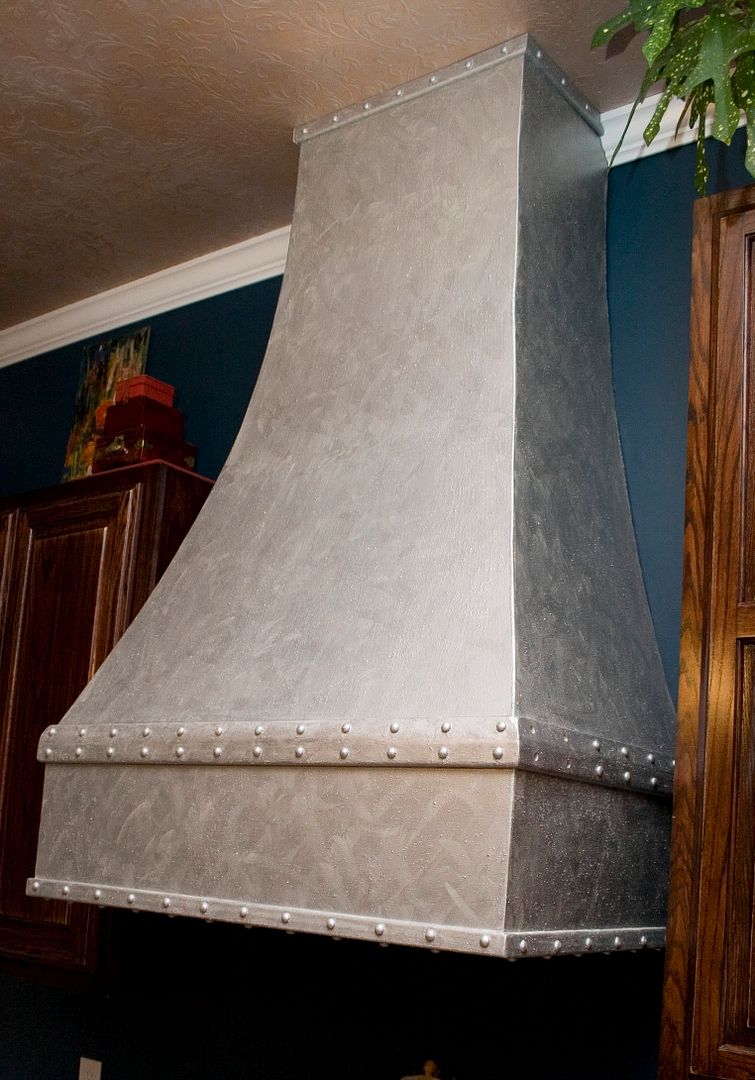 So here are the photos. We were very happy with how the vent hood turned out. We changed our minds on it several times, but the end result really worked out. We feel terrible that Jodi's cousin, Mo, spent so much time giving it a faux-stone look, but we felt forced to do something else for a couple reasons. One being that Mo started the project back when the kitchen was still an empty white room. So, by the time everything came in and got stained, painted, or put on the colors of the vent hood just was not coordinating with the colors of the rest of the room. The second reason was that Mo wasn't done with it. He was working on it during MSU's spring break, but he got to a point and then had to go back to school. Weeks had gone by and he wasn't sure when he would have time to complete it. Then, he had to have surgery on the index finger of his right hand. This is the finger that controls everything on the airbrush tool. So, finishing it might not have happened for months and we needed to have the kitchen done. So, the vent hood has about ten layers of paint on it now, but we love the armor look. And the faux-metallic sheen coordinates with the faux-metallic ceiling.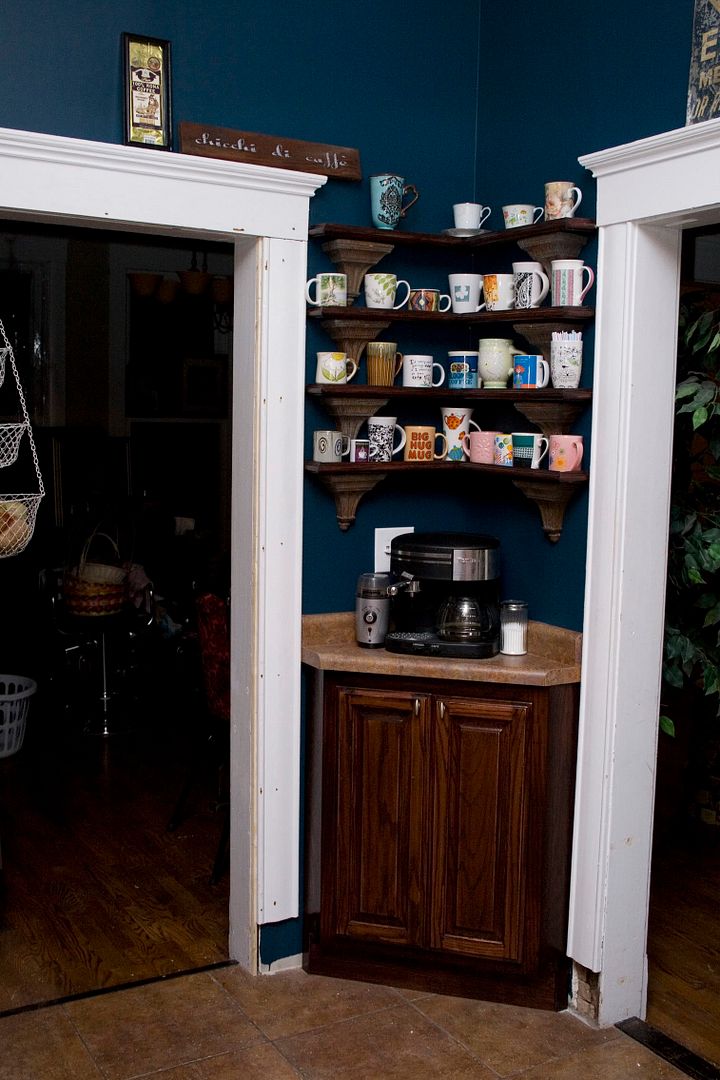 With the last cabinets in we achieved our corner coffee station. This is probably our favorite space utilization example of our restoration so far. In all the 100 years that this house has been standing I doubt that this corner was ever used for anything other than leaning a broom into. But, now this corner can be the source for multitudes of conversations, daily stimulation, and plenty of motivational beverages. It's wonderful to be able to make coffee with everything you need right in front of you. Plus, Jodi finally after years of having one gets to rightfully display her coffee mug collection with style and elegance. One of our original ideas was to do this or something similar to it in our foyer. We had a high-top table that we intended to find chairs for and we were going to make a sort of cafe out of the area. We even joked around about getting a chalkboard on an easel and writing humorous little "daily" specials. However, as large as the foyer may be, it would've cramped the area a little to the point that we wouldn't have been happy with it. This coffee corner works out better, too, since there was no other possible use for it and being that it's just around the corner from the foyer and dining rooms it's easily accessible when we have guests over.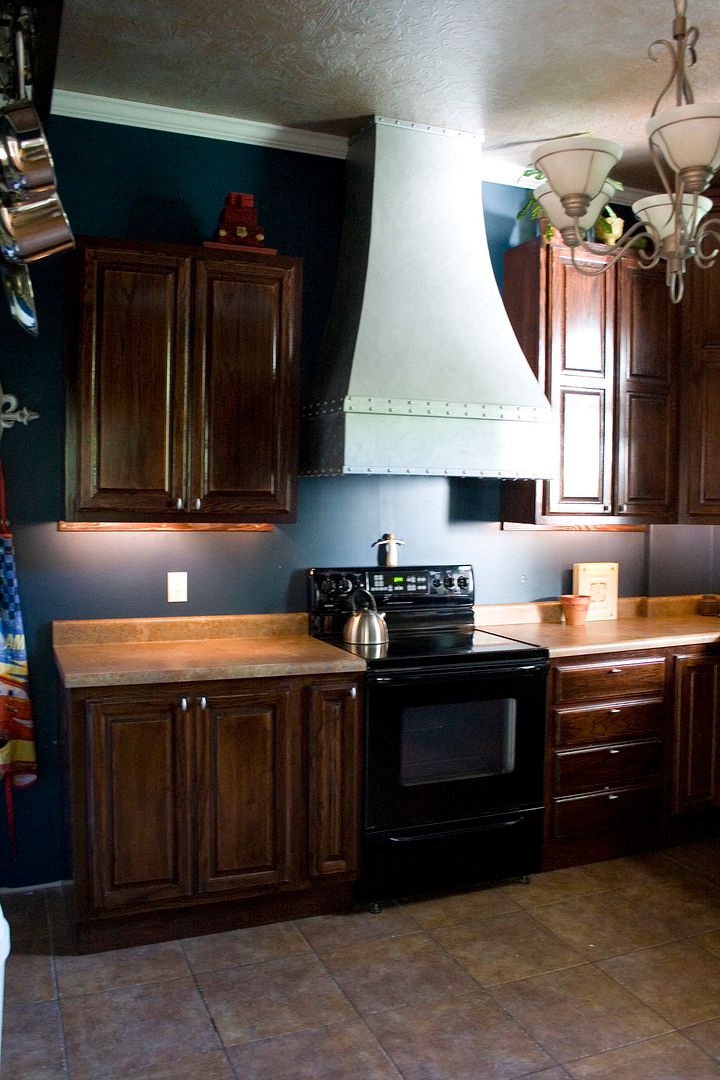 The kitchen has already proven to be just what we thought that it would be: a place of congregation. So far, all the company that we have had over has found themselves just standing around in it. While we may have drastically improved the value of our home by taking on this project, the amount of joy we have in seeing its completion far outweighs the dollar figure. I was wondering just the other day just how long that this kitchen will remain unchanged. We won't live here forever. Rather, we'll be selling it in a few years, in all likelihood. So, I'm curious how much joy a room can bring to the future tenants. We specifically stuck to styles that can't be dated so that, unlike many of the contemporary kitchens of today, this one won't seem in need of a face lift in ten years. At least, that's the idea. But, I think that it'll be true since most home owners really hesitate when taking on a kitchen renovation. We can vouch for how much of a pain in the rear it is to do this in a house and even more so the one that you're living and eating in.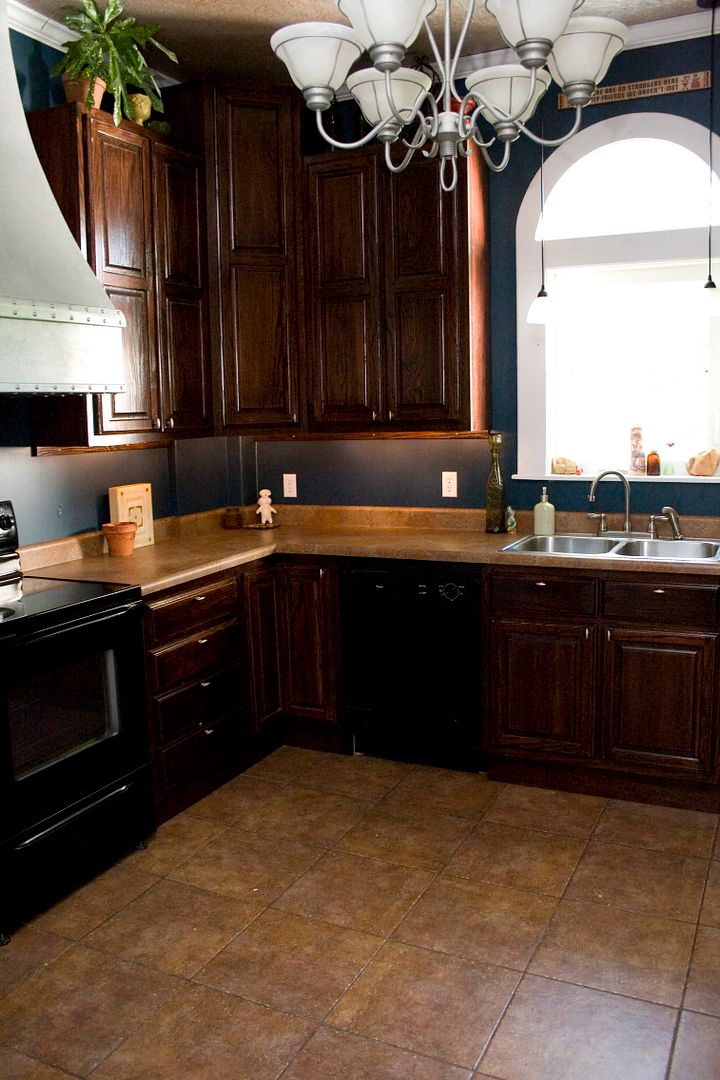 So, with the kitchen blog series coming to a close, I thank you, the reader, for sticking around and seeing the transformation. However, check back soon for I will post a slideshow showing before shots immediately followed with after shots so we all can get the full effect. This will also come in handy to those who read this that can't figure out the direction in which the photos are facing. Plus, I left out a couple angles in these photos just because it was going to be difficult to get all the photos in of every angle and still have a working blog that doesn't take a half hour to load. I'll probably also do a quick video that does a full circle in the room. That should be fun. And saving all this for a tenth blog gives the whole kitchen series a nice round number to close to. So, stay tuned for the "Kitchen Wrap-Up Slideshow and Spin-Around Video".