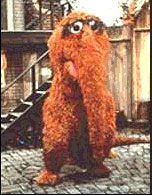 Last week was a landmark week for me. I bagged the ever-so-joked-about snipe. I caught both Big Foot and the equally elusive Snuffleupagus on high definition digital video. I ate a 10 pound steak in less than an hour. I climbed to the peak of Mount Everest...naked. I swam across the Pacific...naked. Don't ask. I tamed a lion and rode him like a horse...fully clothed. I moved a pencil around using only the power of my mind. I ... I ... I may be out of amazing impossible things that I didn't really do.

Okay, you caught me. I didn't really do any of those things. I did, however, finally do something that I never really believed that I'd be able to do. I bought a fancy SLR camera with all the accessories that I should ever need or want. Well, not EVER need or want. Like already, I'd like to eventually get a remote shutter switch for it, but you get what I mean. It's going to be absolutely amazing. I've been researching these cameras ever since I started wanting one around two years ago. I've considered everything in this purchase. Usability, Affordability, Resellability, Accessory Availability, and How-Cool-Would-It-Be-To-Have-One-Of-These-ability. I am 100% confident that I have made a great investment.

And, all it took to afford this was dropping my crack habit. Just kidding. I didn't really drop it. I mean, I don't have a crack habit to drop. My crack usage is completely normal, right? Just kidding. I mean, even if I did have a crack habit, I couldn't just drop it, could I? Those habits are really hard to break. Not that I know. It's just that I've heard that they're hard to break. Of course, I wouldn't know know. I just know. But not from experience. I've just heard from friends, you know. Not that I have crack users for friends, or anything. Because I don't. I don't think I do. I'm pretty sure not. Wait. What were we talking about?


Look for some better photos to be added to Studio Living Room's website in the weeks to come.