Part three of our Back to Eden gardening style adventure, was the planting!
I must admit that we did some major procrastination on getting our seeds for two major reasons. The first was the fact that this year spring came way earlier than expected. Everyone was pretty thrown off by it.
The second was that we didn't have the slightest clue as to where we should get our seeds from. We finally were recommended Bakers Creek Heirloom Seeds by the owners of a small natural foods market, Wild Root Grocery.
We headed out there attempting to make it in time for a lunch that they serve, but we arrived and made it to the restaurant minutes after they were done for the day. This was due in combination of allowing just enough time to arrive at the very end of lunch hours and getting lost from taking a shorter path that happened to not have any signs of any kind, including road signs. You definitely have to leave pavement miles before you come to Bakers Creek. Luckily, a woman offered to make us some cinnamon rolls despite the bakery being closed for the day. Mmm. And, WOW, they were large. Thanks, Debbie! So, we ate cinnamon rolls in the sun and enjoyed the day.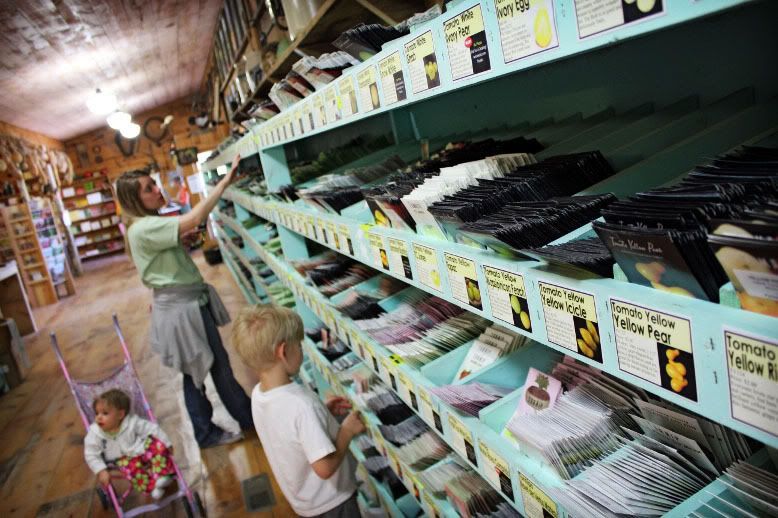 Then, came the seed buying. This was a little overwhelming. As you can see from the photo, there are seeds galore. We stood before about thirty varieties of tomato seeds and finally made our decision, only to find out moments later that we had just been looking at the overflow of the real tomato seed section that housed well over a hundred varieties.
At the end of the day, we had purchased a blackberry bush, a raspberry bush, a bag of Yukon Gold potato seeds, about 25 strawberry plants, and lots o' seeds including tomatoes, cucumbers, yellow squash, bell peppers, jalapeno peppers, carrots, 3 varieties of lettuce, sugar snap peas, green beans, and a lot more that I can't think of at the moment.
It was a lot of fun and I was very impressed with what all they had built out there at Baker's Creek. It's a neat little village that was well worth the drive.
Once again, I have made a little video using time-lapse photography for your viewing pleasure. Check it out at
this YouTube link.