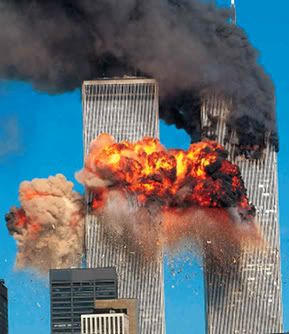 It was Tuesday. I was 22 years old. I was taking a week off of work using "vacation" hours that I had just acquired the previous Friday, the second anniversary of my hire date at Springfield Remanufacturing. I hadn't gone anywhere. An actual vacation, as people define them here in the U.S., wasn't in the budget for me, but I was thoroughly enjoying my time off of work just hanging around the house with Jacob, then only 19 months old.

We left our home, just out of town, around 2:00 in the afternoon to get a few things at Walmart. Along the way, I drove past two gas station both of which had lines of cars stretching out into the streets. I found it odd, for sure, but didn't think too much of it until after I left a hectic Walmart and saw the same lines at other gas stations, as well.

I thought that maybe I should find out what was going on. I switched the car stereo from CD to radio and heard a lot of talk. I only picked up clues, but couldn't figure out exactly what they were talking about. I switched the station twice to find the same talk again and again. The stations were broadcasting the same thing. I heard, "war", "attack on American soil", and "death toll well into the thousands."

When I got home, I scrambled to find the TV antenna that was still packed away despite having lived at the house for over three months. I've never been much of a TV watcher. After hooking up the antenna, I sat and watched the footage for hours.

Alan Jackson wrote a song less than two months after the disaster. That song asked a simple question that has an answer almost everyone in the United States remembers very clearly: "Where were you?" So, where were you when you got the news?